Headmistress Note
Symbiosis School, Nashik has offered me the opportunity to lead a school with a difference – at once modern with the state – of – the art infrastructure facilities yet deep rooted in ethos, values and traditions; centered on Indian cultural heritage and upholding its constitutional values yet having a global prospective keeping pace with the 21st century global trends; developing dynamic and innovative attitude yet in the main stream; striving for excellence without the killer spirit of competitiveness; imparting 'Empowering Education' rather than bookish knowledge; holistic development as its vision with individual attention…… The School has grown in leaps and bounds in strength from hundreds to thousands within a span of 22 years. Symbiosis has developed a distinct entity of being a 'learning organization' that reacts more quickly to changing external environment, embrace innovations and ultimately improve student learning outcomes. At Symbiosis School, we value and take pride in fulfilling the following six expectations that every parent has about their chosen school.
Strategically plan Personalized, qualitative and effective teaching and learning activities for a holistic learning experience
A safe, supportive and stimulating learning environment.
A wide variety of subject choices in classes, co-curricular and extracurricular activities.
Effective student counselling cell and discipline procedure.
Innovative and experiential learning practices to improve overall performance of students.
State of the art infrastructure and technology.
The collaborative efforts of students, parents and teachers are the heart of learning at Symbiosis. Expectations for our students are high at Symbiosis. We firmly believe that every child has talents and we try to provide a wide variety of activities as possible so that every child can experience success. We aim to provide excellence in all our education programmes. It is our mission 'to provide each child exposure and opportunities to build confidence and self-reliance in every sphere of life in collaboration with family and community'. We at Symbiosis would like to set an example for this noble action. Let's help our students in developing 'Affective Skills'. My Best Wishes to you all for a meaningful, joyful and peaceful experience at Symbiosis School…
Excellence and quality in education are not just clichés for us, we live them every moment. In our pursuit of excellence, we are guided by the vision that was cherished by Padmabhushan Dr.S.B.Mujumdar and is now being led by his dynamic daughter, Dr Vidya Yeravdekar,. These fifty years have been an eventful odyssey, full of achievements and learning. Over the years, we have continuously evolved in our march towards excellence.
The dedicated team of teachers at our School strongly believes in the adage that anything worth doing is worth doing well, and so, their level of commitment and expertise are unmatched. The sole purpose of all our endeavours is to create an ambience which is conducive to the holistic growth of the child.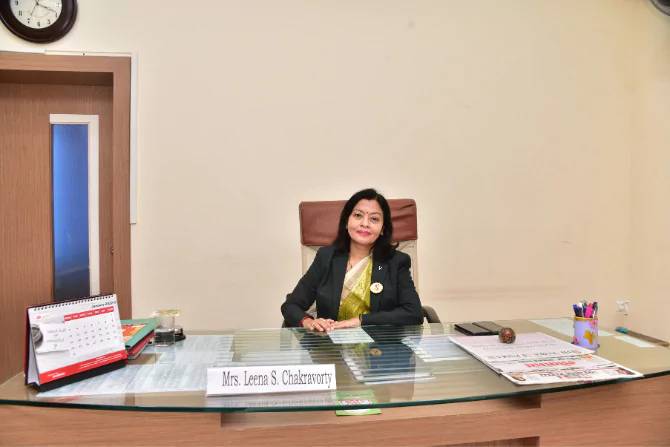 Mrs. Leena S. Chakravorty
Headmistress
I welcome you and your child aboard on this journey called Symbiosis!
Mrs. Leena S. Chakravorty, a dynamic leader, reflective practitioner, an enlightened source and a motivator is a force to reckon with. She is a visionary educationist with a panoramic experience of about 13 years in education and administration. She has shown exceptionally outstanding results in B.A. (English) and M.A. (Pyschology) from Savitri Phule University, Pune in 1993 and 2010 respectively. She did B.Ed with distinction from Savitri Phule University, Pune. To enhance her educational administrative skills and to have an edge, she did her M.Ed with distinction from Phule University, Pune.
Prior to School as Head of the School (Principal), she has worked as a lecturer in Panchvati College Nashik and Ashoka College of Education and a Principal of Vidya Prabodhini Prashla, Bhonsla Campus, Nashik for 8 years. She has submitted many research papers in National and International conferences. Her vision is to develop holistic responsible citizens who can cater to the needs of the rapidly growing society, who are tech savvy and yet able to fend for themselves keeping in mind the sustainable means of development. Providing necessary support, infrastructure,resources, students intellectually strong, physically fit, emotionally balanced, socially connected spiritually sound being first step towards this goal, has already been initiated and hopes to see fruition soon.
She expeditiously handles multiple roles in administration, classroom teaching and beyond. Her techniques of prioritization and delegation of tasks guides her to take appropriate decisions at right times. Optimum utilization of manpower, physical and financial resources and ability to resolve conflicts among different stakeholders are her core Competencies.
Her accomplishments serve as an inspiration to the school.
"Magic is believing in yourself. If you can make that happen, you can make anything happen". Johann Wolfgang Von Goethe